Our 3rd place winner is Danielle Sarlo, DO who is a 3rd year Ophthalmology resident in Michigan. She recounts her experiences managing COVID19 ICU patients.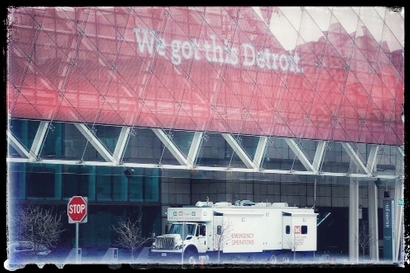 "Doc, the patient's blood pressure is running around 75/50, do you want to restart the Levophed drip?" are words I never thought I would hear as a 3rd year ophthalmology resident less than 3 months from graduation. COVID19 has brought us all to a unique place in our training here in metro Detroit. Instead of managing routine eye clinics, we shut down to emergencies-only, elective cases were canceled, and the residents, ophthalmology included, were deployed to staff our hospitals' overwhelmed COVID intensive care units. Sure, it was easy for me to be upset about the situation; wanting 1 more cataract, wanting 1 more laser, thinking I might do more harm than help. But then I realized this pandemic was bigger than my personal circumstances; my colleagues and community were really in need of help.

The thought of overseeing critical ventilated COVID patients absolutely terrified me. It had been several years since I practiced any form of internal medicine, let alone looked at where an endotracheal tube properly sits on a chest x-ray. The number of daily cases and deaths continued to rise in Michigan throughout April 2020, putting our hospitals in a position to transform normal floors into intensive care units in order to accommodate the increasing volume of COVID patients. Realizing my inevitable future as a temporary medicine resident, I quickly traded my daily studying from doing OKAP questions to reading "how to manage a ventilator" in my Little ICU Book and watching "pathophysiology of COVID19" online lectures. I wanted to be equipped for whatever situation I was put in at the hospital and be an essential team member rather than show up unprepared.

I ended up staffing several ICU shifts between two of our hospitals here in Michigan over the past couple weeks. I learned a lot. I learned how delicate it was communicating with loved ones over the phone, who could not see how critical these situations were in-person. I learned patience. I learned how quickly medical decisions were changing for managing COVID patients on a day-to-day basis. I learned it took a large team to manage each patient in their various stages of the disease. I saw camaraderie amongst staff members, many of whom were sent from out-of-state hospitals, helping each other with their patients. I learned how donations from local restaurants were more than about the food, it was about a united community.

Outside of work, my co-resident and I were able to organize more donations from generous companies, both local and national. We distributed these donations around the hospital units and to all the other residents. While it was a ton of work on our end with emails, deliveries, and carrying boxes of coffee, protein bars, and snacks throughout the hospitals, simply bringing a smile to peoples' faces was worth the effort. Promoting morale within the hospital was imperative during these long days.

While COVID19 exhausted us all in extraordinary ways, I tried to see the bright side of things. I got to work with some of my friends in other specialties, some of whom I have not seen in many months or years. I took the opportunity of time outside of the ICU to put my own health as a priority. I tried yoga, I made sure I worked out every day, I learned to cook more with fresh vegetables, and took my dog on more walks than ever. Stay-at-home regulations did not allow us to see family and friends, but we took this as an opportunity to call and video chat with each other more often than ever before.

Looking back on my time over the last 8 weeks of the pandemic, I would not trade my experience for anything else. Our curve has flattened in Michigan, routine surgical cases are restarting, and clinics are starting to reopen. I have not operated on a routine cataract in nearly 2 months, but I know my attendings have given me the training I need to get right back on the bicycle (phaco pedal) and operate. While managing vasopressors, insulin dosing, and monitoring adverse reactions to convalescent plasma transfusions will likely not be on my OKAP next week or be used in my daily life as a future pediatric ophthalmologist, I do believe this experience has overall helped me become a better doctor and person. My role in COVID19, although small, was one I will never forget in my years of ophthalmology training.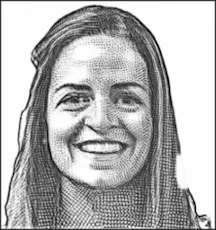 Danielle Sarlo, DO
Currently a PGY4 at Ascension Ophthalmology in Madison Heights, MI
2020-2021 Pediatric Ophthalmology Fellow at Children's Hospital of Philadelphia (CHOP)



Want to get more from OphthoQuestions?
Related Posts