July 12th, 2019 (**New feature alert**): you now will automatically earn CME credits as you complete tests! After answering a certain number of questions, you will accumulate CME credits that you can claim at a later date (e.g. after residency). Just click on the "CME Credits" button along the top bar. There is no easier way to earn AMA PRA Category 1 CreditsTM right in the comfort of your home! Please note that these CME credits need to be claimed within a certain time period. Please let us know if you have any questions by posting in the Forum. We hope this feature makes maintaining your medical license a less tedious and more affordable process.
---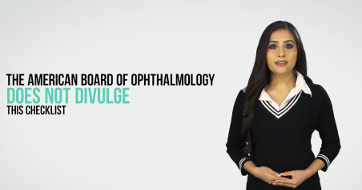 (03/08/19): Our Oral Boards Products are now live! Here, you will find useful resources to help you pass the ABO's Oral Board exam. We have standardized scripts, flashcards, and review questions to help you nail your presentation skills. It is a continually-improving product, so expect even more content as the weeks get closer to your oral exam date!
---


(09/26/2018): You can now post ANONYMOUSLY on OphthoQuestions' Discussion Forum! We know you value your privacy. So now, post an interesting topic of discussion without even logging into your account! We love the free flow of ideas without any strings attached (unlike some message boards). But please still keep it civil!
---
(05/13/2018): OphthoQuestions now has its own "Discussion Forum"! Here you will find answers to your burning questions regarding a career in Ophthalmology. Whether you need advice on how to survive residency, pass your boards, or how to make a lot of money, this should serve as a valuable resource. To motivate you to take a look, we will be giving away two $100 Amazon gift cards for those who post some suggestions under the "Suggestions/Improvements to OphthoQuestions" thread. Besides posting a suggestion, please upload a profile photo to be considered for the drawing. Please note that only registered users can see this thread. The deadline for the drawing will be 05/19/18 at 9 pm EST. We will announce the lucky winners on the Forum at that time. Best of luck!
---
---
---
(11/29/17):
It's here! Announcing the launch of our newly redesigned website.
OphthoQuestions is proud to announce the launch of our recently redesigned website. The objectives of our effort were aesthetics and simplifying content, making the design more streamlined with clear navigation.
We hope you find the new website easy to navigate, and enjoy the fresh look.
Your feedback is very important to us. Please email us with any questions, comments, or concerns.
Due to popular demand, we will be launching our new app for iOS in the near future! Please keep your eye out for our new iOS app.
---
---
(05/28/17): Just a reminder that you will be receiving a free database reset on July 1st, 2017. Again, upon your first reset, your performance for the academic year is "locked". In other words, any subsequent performance is not recorded until July 1st, 2018 after your database reset during the academic year. You may elect to use this free database reset at any time after you receive it (i.e. you are not forced to use it).
---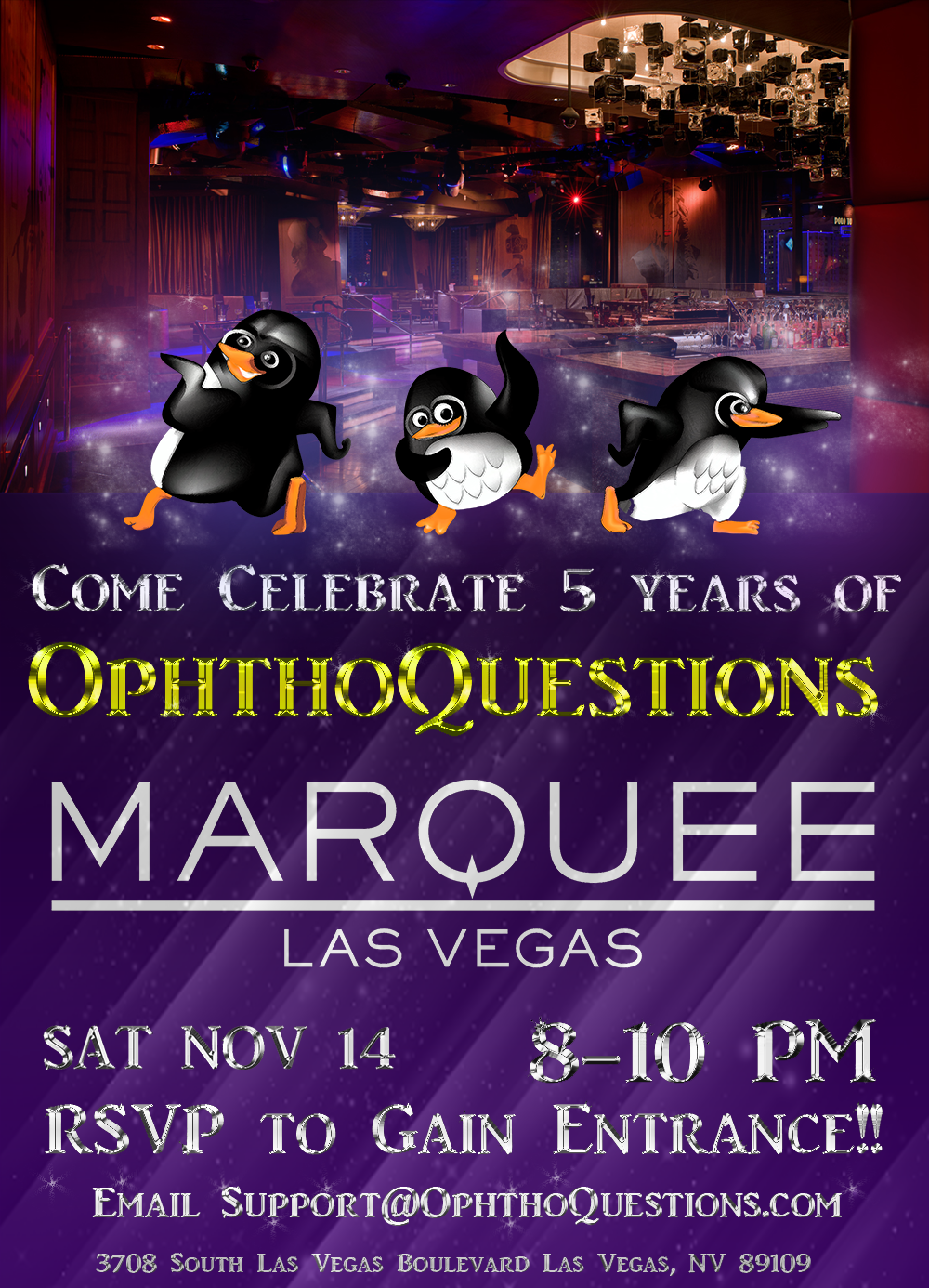 (11/01/15): The physical invitations have been sent out to those on our final guestlist. We look forward to seeing some of you OQ'ers in a few short weeks!

(09/29/15): We have finalized our guest list for the Vegas party. We have sent an e-mail specifically to those on this final guestlist. If you did NOT receive an e-mail from us, then unfortunately, you did not make the list. There was great demand for the limited number of spots. BUT if you still want to go, you can pay us the "at-cost" price that the club is charging us. Please contact us if that is something you want to do.


(09/20/15): For now, we have filled our tentative guest list for the party! We will be e-mailing everyone on that list an "official" notification in the next week or so. This list will likely contain approximately 130 names to account for no-shows. We have only paid for 125 total guests, so only the first 125 guests that show up will be granted admission to the event. If you don't end up on the final guestlist, but still really want to go, then please contact us to see how we can accommodate you.

(09/18/15): Yes, we are throwing a small party at the AAO in Vegas! If you will be present and want to go, please send us an e-mail with the subject "OQ Vegas Party". We will be organizing the guest list in the following priority: (1) Has an active subscription to OphthoQuestions; (2) Had a previous subscription to OphthoQuestions; and (3) Order in which we receive the e-mail. We can only accommodate a limited # of guests, so please reserve your place early if you want to go! We will have a final guest list a few weeks before the event and will contact you if you are on that final list. And yes, it will be a fully-open bar from 8 to 10 pm, and then you will be allowed to stay in Marquee into the wee hours of the night/dawn. Hope you can attend the party and take a break from the eyeball business!

---
(7/30/2015): The Coding Product is here!!!
This tool is designed to introduce doctors and technicians to the basics in coding including:
* Differences between eye codes and E&M codes
* Criteria for each code level
* When NOT to bill for things with modifiers
* NCCI edits
* PQRS criteria, and much more!
---
(3/12/15): "Notes Export" function is back! We'll continue to watch its performance and influence on the behavior of the website.
---
(03/02/15): We have just been alerted by our host that our websites will be down 1-2 hours for maintenance and security updates on 03/07/15 (Saturday). We have been told that this will be from approximately 10 am to 1 pm Eastern Standard Time. We apologize for the inconvenience, but our host just notified us about this today.
(03/05/15): Due to the recent downtime incidents, we had to disable the "Export Notes" functionality. Please contact support if you want us to export the notes for you (PDF only for now). This would also work after the database reset (which normally hides your notes). We apologize for the inconvenience.

---
(03/01/15): Yes, it is crunch time for the OKAPs and WQE! To reset your database, please click on the "Apply Database Reset" button that is located on your Dashboard. Best of luck to everyone! We know that you will succeed!
---
(02/06/15):
Some of you are wondering why you have no data in your "My Performance" section. The most likely answer is that you
reset your database too early
. Please remember that your performance is *
locked
* the first time you elect to reset your database after July 1st of a given academic year. For example, let's say that you purchased a subscription on 12/07/14. You then use up a few questions and then decide to reset your database on 12/08/14. Guess what?!? Your performance is now locked until July 1st, 2015! We have to do this to ensure that the performance statistics actually mean something. We will try to help people unlock their performances on an individual basis, but this is very time-consuming. So please, if you want to generate performance statistics for the year, then do not reset your database until the last possible moment. Thanks!
---
(02/02/15): We apologize for the 1.5 hours of maintenance downtime that you may have experienced tonight. We will try to give you additional warning that the website may be down, and for approximately how long. Thank you for your patience during this very busy time of year!
---
(12/27/14): Reminder: a free database reset option will be enabled on 01/01/15. Click on the "Apply Database Reset" button located on your Dashboard to start the process of resetting. This will let you reset your question database if you want. Please note that you do NOT have to reset on 01/01/15. Instead, you can wait until you are ready to start a fresh database. Please remember that your "Cumulative Performance" and "Leaderboards" statistics are locked for the academic year after your first database reset. Please note: the support staff will not answer any e-mails about how to reset your database since it is a self-explanatory process. Have a very happy new year!

---
(07/30/14): Our new Posts feature is up and running! Come read some fascinating articles by our impressive contributors who will give you some of their "pearls" on getting a jumpstart on your career in Ophthalmology.
---
(05/11/14):
We have a completely new
"add-on" package
specifically written for the
"FRCOphth Part 2"
exam. It was
written by a previous winner of the "Elizabeth Hunt"
and
"Brian Harcourt" medals
(i.e. awarded for the highest marks). The questions contained within that package are constantly updated and augmented by our experts. It should definitely help you succeed with passing that exam. All purchased "add-on" packages are active as long as your base subscription is active.
Purchase an add-on package today
!
---
(3/29/14): If you are studying for the EBOD (European Board of Ophthalmology Diploma), please e-mail us and we will change your "What test are you studying for?" property in your profile. This will be helpful for your performance statistics calculations. Best of luck!