Intuitive EMR, Practice Management System, Analytics and More

Modernizing Medicine® proudly offers an ophthalmologist-driven suite of solutions that can help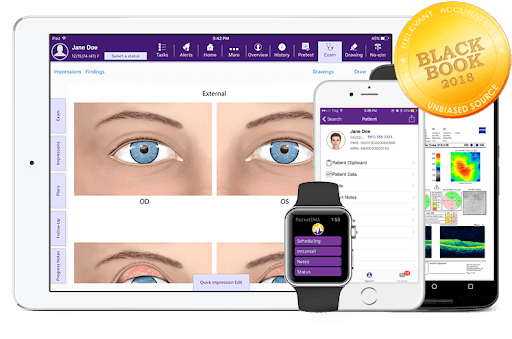 improve practice efficiency by saving time. To get a quick glimpse of our award-winning* EHR, EMA™, you can view a  2-minute demo.
In addition to our ophthalmology EHR system, we offer a comprehensive, all-in-one, integrated suite of solutions. Here's a bit more on that.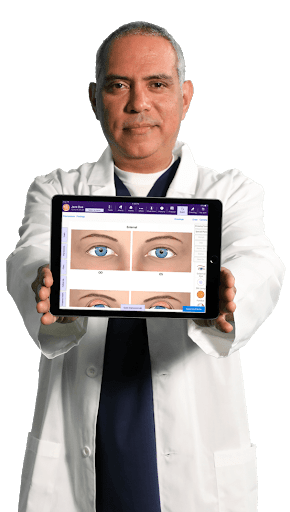 EMA™ is our ophthalmology-specific, cloud-based EHR system built for and by ophthalmologists keeping your unique workflow in mind. EMA comes preloaded with: 400 chief complaints; 4,300+ diagnoses; and 2,200+ plans and procedures making it ready to use right out of the box—so forget about time-consuming templates. The native iPad interface will allow you to document an entire exam with a few taps and gives you added mobility both in and out of the exam room.
Helps quickly document exams. EMA intuitively adapts to your unique style of practice by remembering your preferences—helping save you time. For common procedures, conditions and visit types, our Protocols feature lets you pre-record patient, procedure, diagnosis and treatment data in "master visits." From there, you can apply that data to any encounter in one click. Plus, it captures structured data during the exam.
Manage diagnostic images. Access DICOM images from diagnostic devices right from EMA with just a few clicks. This functionality allows you to connect with many ophthalmic imaging devices. You can add images and reports into your patient's chart quickly, access your patient's imaging studies in one place, and compare current and past images side by side.
Automate tedious tasks. EMA automatically suggests your ICD-10, CPT and modifier codes and generates thorough notes and bills. This can be used to help improve accuracy, justify coding levels and finish charting while the patient is in the room. Plus, gather MIPS reporting data without adding time and clicks to your workflow.
Practice Management (PM) system. PM works seamlessly with EMA to help bridge the gap between the front and back offices. This flexible system gives staff quick and easy access to what you need to complete tasks efficiently, collect balances promptly and improve the patient experience.
Revenue Cycle Management. By combining people, processes and technology, we create a comprehensive billing service that can help manage your claims, payments and revenue generation, from before patients are seen until after the bills are paid.
Analytics. Our data analysis platform helps you unlock actionable insights as it brings data together, thanks to capturing structured data, with interactive reports that can show the clinical, financial and operational health of your practice. Imagine having the ability to answer questions such as these and beyond:
Which diabetic patients have missed their retinopathy appointments?

Which referring physician sent my ophthalmology practice the most patients this?
Patient Engagement. Tools to help patients become more involved in their healthcare continues to grow in importance. Our patient portal, kiosk, reminders and surveys all focus on enhancing the patient experience and engagement levels while providing benefits to you and your staff.
All of this is backed by a dedicated, robust and knowledgeable training and award-winning** support team you can trust through onboarding and beyond.
If you like what you read and want to learn more, click here to see our 2-minute demo.

*Black Book™ Research
** 2017 Customer Success Team of the Year — SIIA Company CODiE Awards; 2018 Customer Service Department of the Year (Gold Winner) — Customer Sales and Service World Awards®
This is a sponsored post by Modernizing Medicine, Inc.  All reviews and opinions expressed in this post are solely those of the author.  OphthoQuestions LLC assumes no liability or responsibility for any subscriber using the product(s) described.
Want to get more from OphthoQuestions?
Related Posts